Theo Scharpach Guitarmaker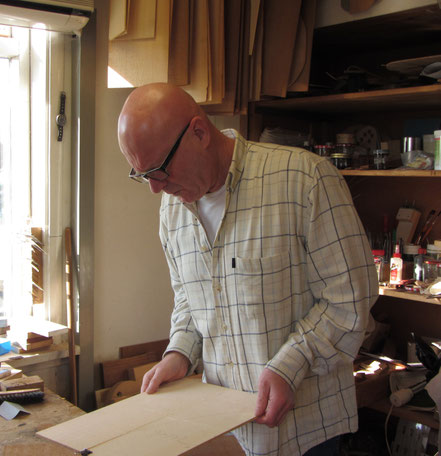 "I was born close to Vienna, Austria and I am still proud to have the Austrian nationality although I moved to the Netherlands at an early age however been raised within the Austrian culture. My father was a watchmaker and I graduated with a diploma of Arts and later I got my diploma restoration of antique furniture. I actually knew I wanted to be a guitarmaker when I did the course of restoration.
Now I am guitarmaker for close to 40 years and have worked for some famous clients. (Al di Meola, Steve Howe, Chieli Minucci, Randy Bachman, Ahmet Kanneci , Camillo Sauvalle, Andreas Dombert and some famous collectors like Scott Chinery etc.)
I started building classical guitars and specialised in custom made guitars and later added the Archtop jazz guitar as it attracted my attention and passion.
All my guitars are exclusively handmade. I want my guitar to offer many tonal colours, great dynamic range and yet to have an intimacy as I feel that is the true sound of the instrument called guitar."
---
theo scharpach | "opus 5"
22.900 Euro
theo scharpach | "country style" brazilian rosewood
Preis: 14.900 Euro - verkauft / sold - in Backorder